Fairview Campus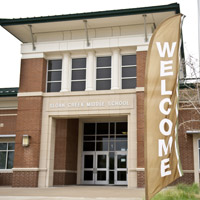 Our Fairview Campus currently meets at Sloan Creek Middle School on Sundays at 9:30 and 11:00 a.m. We offer dynamic worship, vibrant children and student ministries and biblical teaching that is relevant to today.
A Message from the Fairview Campus Pastor,
Glen Brechner

At Chase Oaks Fairview, we desire to be a source of hope, life change and restoration in the community where we live. We are excited about being part of God's story and would love you to be part of that story with us. We invite you to join us for worship at one of our Sunday services and learn more about us at Explore, a one-hour experience where we will get to know each other better, understand who we are as a church and the opportunities for you to grow and make a difference. If there is anything we can do to help you, please email me at .
---

ADULTS
LifeGroup
If you are interested in getting plugged into a lifegroup, contact Terry and Gabrielle Bugg at or stop by the Connection Area in the lobby.

Make A Difference
A big part of our church is making a difference in our community and around the world. If you would like to help in an upcoming opportunity to Make A Difference, contact Jennifer Creech at .

Make It Happen
We consider service a core value at Chase Oaks. If you are looking for a place to serve or get plugged in within the church, we would love to help you find that place. Check out current service opportunities, or for more information, please contact Roger or Christi Ledebur at .

Care Team
IF you need prayer, support, counseling, or just not sure where to turn, our Care Team is here to serve you. Steve and Kim Priess lead our Care Team which consists of people available to visit in hospital, meet practical needs, offer recommendations on counselors, provide marriage mentors, or help families with teenagers in crisis through our OASIS ministry. If we can help with any of these or other needs or if you just need someone to pray with, please contact Steve and Kim so we can come alongside of you. Steve can be reached at 214.837.1369 or at , and Kim can be reached at 214.394.5971 or at .
Wingmen
Wingmen, a Fairview men's bible study, meets at 7-8 a.m. on the 2nd and 4th Fridays of the month at Cherith Center. Contact Bourdon Barfield at for more information.
STUDENTS
Shake (Grades 6-8) and Impact (Grades 9-12) make up our Student Ministry at Chase Oaks Fairview.
Shake Middle School meets on Sunday mornings during the 11:00 service.

Impact High School meets weekly on Sunday nights in homes for connection, teaching and small groups. For more information on Shake or Impact, contact Student Ministry Pastor Mike Mabie at .

To find out more about upcoming opportunities and events, click here.
CHILDREN
Each Sunday, our children have fun and learn about God in our Kidzone Ministry (birth-Grade 5). Learn more. Questions? Contact our Fairview Kidzone Director, Nancee Krieger, at .