Life Hurts God Heals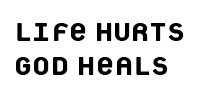 Life Hurts God Heals is an 8-step program for students 6-12 grades dealing with many types of hurts, hang-ups or habits. It is designed for students to have a safe place to deal with these issues and start on a road of healing. Life Hurts God Heals meets on Tuesdays @ 201, 6:30-8:30 p.m. in the spring and fall. Next session begins Tuesday, January 22, 2013.
Are you a teen who is looking for more out of your life? Are you dealing with pain, loneliness, a feeling of emptiness or any hurt you can't seem to move past? Whatever your reason for attending, healing can be the result. If you're a Jr. High or High School student, come join us and find the joy and peace God wants you to have in your life! LHGH is open to any teen 6-12 grade (does not have to be attending Chase Oaks Church).
Questions?
If you are interested in more information about Life Hurts God Heals or interested in volunteering for it, contact LHGH Director Cherlyn White or her assistant Tracy Parlin .