Going Boldly to Four Services starting August 3/5
Construction on our Go Boldly Legacy Expansion project is right on schedule! And the next phase of that construction is going to squeeze in on us a bit, as we have to reduce seating capacity in the auditorium by 300 seats. In order to make room for you and our guests each week, we'll be adding a fourth Live! service starting August 3/5 at 12:30 p.m. We'll also be adjusting our Sunday service times.
New Sunday Service Times starting August 3/5
Live! — 9:00 & 10:45 a.m. and 12:30 p.m.
Epoch — 9:00 & 10:45 a.m.
Legacy Patio — 9:00 & 10:45 a.m.
How You Can Help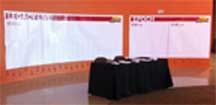 With the loss of seats, we need about 800 people who currently attend our 9:00 & 11:00 a.m. services to make a move to one of our other Sunday worship venues for the remainder of the construction (one year). Sign-up sheets are in the lobby. Additionally, with the added fourth service, we also need people to come serve with us in Kidzone, 1st Impressions and Tech Team. Cards are available in the lobby for that as well.